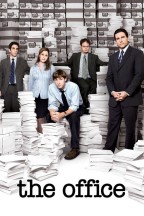 Le quotidien d'un groupe d'employés de bureau dans une fabrique de papier en Pennsylvanie. Michael Scott, le responsable régional, pense être le mec le plus drôle du bureau. Il ne se doute pas que ses employés le tolèrent uniquement parce que c'est lui qui signe les chèques. S'efforçant de paraître cool et apprécié de tous, Michael est en fait perçu comme étant pathétique...
Ce contenu est proposé par
Voir The Office en streaming sur une de ces plateformes :
Comment regarder The Office en streaming
The Office en streaming complet et en qualité HD sur leurs plateformes respectives légalement. La série The Office est sortie officiellement en 2005.
Séries les plus populaires du moment