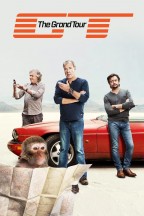 Jeremy Clarkson, Richard Hammond et James May sont de retour! Les trois présentateurs présentent leur nouvelle émission TV avec des centaines de voitures, des milliers de personnes, un scorpion métallique cracheur de feu, un escadron de jets au-dessus du désert californien, plus trois incroyables hypercars hybrides et une superbe BMW.
Ce contenu est proposé par
Voir The Grand Tour en streaming sur une de ces plateformes :
Comment regarder The Grand Tour en streaming
The Grand Tour en streaming complet et en qualité HD sur leurs plateformes respectives légalement. La série The Grand Tour est sortie officiellement en 2016.
Séries les plus populaires du moment