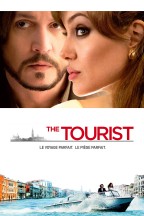 Pour se remettre d'une rupture amoureuse, Frank, simple professeur de mathématiques, décide de faire un peu de tourisme en Europe. Dans le train qui l'emmène de Paris à Venise, une superbe femme, Élise, l'aborde et le séduit. Ce qui commence comme un coup de foudre dans une ville de rêve va vite se transformer en course-poursuite aussi énigmatique que dangereuse.
Ce contenu est proposé par
Voir The Tourist en streaming sur une de ces plateformes :
À notre connaissance aucune plateforme propose The Tourist en streaming pour le moment.
Comment regarder The Tourist en streaming
The Tourist en streaming complet et en qualité HD sur leurs plateformes respectives légalement. Le film The Tourist est sorti officiellement en 2010.
Films les plus populaires du moment