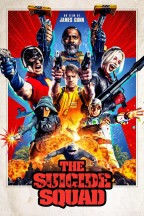 Bienvenue en enfer - aka Belle Reve, la prison dotée du taux de mortalité le plus élevé des États-Unis d'Amérique. Là où sont détenus les pires super-vilains, qui feront tout pour en sortir - y compris rejoindre la super secrète et la super louche Task Force X. La mission mortelle du jour ? Assemblez une belle collection d'escrocs, et notamment Bloodsport, Peacemaker, Captain Boomerang, Ratcatcher 2, Savant, King Shark, Blackguard, Javelin et la psychopathe préférée de tous : Harley Quinn. Armez-les lourdement et jetez-les (littéralement) sur l'île lointaine et bourrée d'ennemis de Corto Maltese. Traversant une jungle qui grouille d'adversaires et de guerilleros à chaque tournant, l'Escouade est lancée dans une mission de recherche et de destruction, avec le seul Colonel Rick Flag pour les encadrer sur le terrain et la technologie du gouvernement dans leurs oreilles, afin qu'Amanda Waller puisse suivre le moindre de leurs mouvements.
Ce contenu est proposé par
Voir The Suicide Squad en streaming sur une de ces plateformes :
À notre connaissance aucune plateforme propose The Suicide Squad en streaming pour le moment.
Comment regarder The Suicide Squad en streaming
The Suicide Squad en streaming complet et en qualité HD sur leurs plateformes respectives légalement. Le film The Suicide Squad est sorti officiellement en 2021.
Films les plus populaires du moment