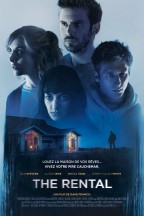 Horreur
The Rental ( 2020 )
Louez la maison de vos rêves... Vivez votre pire cauchemar.
Deux couples louent une sublime maison face à l'océan pour un week-end de fête. Les quatre amis comprennent très vite que derrière la beauté de l'endroit, un danger les guette : une présence mystérieuse semble les espionner et révèle des secrets inavouables sur chacun d'eux. La tension monte et le week-end de rêve va virer au cauchemar absolu…
Ce contenu est proposé par
Voir The Rental en streaming sur une de ces plateformes :
À notre connaissance aucune plateforme propose The Rental en streaming pour le moment.
Comment regarder The Rental en streaming
The Rental en streaming complet et en qualité HD sur leurs plateformes respectives légalement. Le film The Rental est sorti officiellement en 2020.
Films les plus populaires du moment