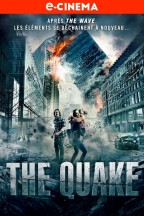 Depuis un violent tsunami qui dévasta la région, Kristian, géologue de renom, vit retiré au pied des fjords. Lorsqu'il découvre qu'une multitude de micro-séismes frappent Oslo, il n'a d'autre choix que de s'y rendre pour prévenir les autorités. Un tremblement de terre dévastateur est inévitable : une véritable course contre la montre débute. Kristian va tout faire pour sauver sa famille et survivre à cette catastrophe imminente.
Ce contenu est proposé par
Voir The Quake en streaming sur une de ces plateformes :
À notre connaissance aucune plateforme propose The Quake en streaming pour le moment.
Comment regarder The Quake en streaming
The Quake en streaming complet et en qualité HD sur leurs plateformes respectives légalement. Le film The Quake est sorti officiellement en 2018.
Films les plus populaires du moment