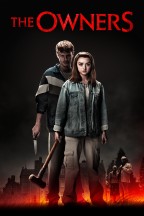 Un groupe d'amis pense avoir trouvé la combinaison gagnante parfaite : une maison vide avec un coffre-fort rempli d'argent. Mais, lorsque le couple de personnes âgées qui y vit rentre plus tôt que prévu à la maison, les rôles sont soudainement renversés. Alors qu'un jeu mortel du chat et de la souris s'ensuit, les voleurs potentiels doivent se battre pour se sortir d'un cauchemar qu'ils n'auraient jamais pu imaginer.
Ce contenu est proposé par
Voir The Owners en streaming sur une de ces plateformes :
À notre connaissance aucune plateforme propose The Owners en streaming pour le moment.
Comment regarder The Owners en streaming
The Owners en streaming complet et en qualité HD sur leurs plateformes respectives légalement. Le film The Owners est sorti officiellement en 2020.
Films les plus populaires du moment