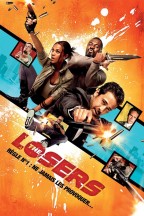 Un commando des Forces Spéciales est envoyé en Bolivie pour arrêter un grand trafiquant de drogue. Max, le chef de l'opération, les envoie, en réalité, dans un piège: il les abandonne sur place et retourne aux États-Unis où il compte vendre une puissante arme à des terroristes. Aidé par la mystérieuse Aisha, le groupe parvient à rentrer en Amérique où ils tentent de faire échouer le dangereux projet de Max...
Ce contenu est proposé par
Voir The Losers en streaming sur une de ces plateformes :
À notre connaissance aucune plateforme propose The Losers en streaming pour le moment.
Comment regarder The Losers en streaming
The Losers en streaming complet et en qualité HD sur leurs plateformes respectives légalement. Le film The Losers est sorti officiellement en 2010.
Films les plus populaires du moment