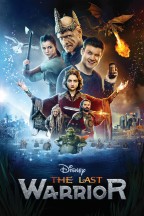 Ivan est un jeune escroc vivant à Moscou qui se fait passer pour un grand magicien et est payé pour cela. Un jour, poursuivi par un client mécontent, il se retrouve catapulté par mégarde dans le monde fantastique de Bélogorié. Il se retrouve alors pris dans une véritable épopée, aux côtés de compagnons de voyage tous plus farfelus les uns que les autres. Il fait la rencontre de Liéchi, qui lui annonce qu'il est le fils caché du héros Ilya Mouromets.
Ce contenu est proposé par
Voir The Last Warrior en streaming sur une de ces plateformes :
À notre connaissance aucune plateforme propose The Last Warrior en streaming pour le moment.
Comment regarder The Last Warrior en streaming
The Last Warrior en streaming complet et en qualité HD sur leurs plateformes respectives légalement. Le film The Last Warrior est sorti officiellement en 2017.
Films les plus populaires du moment