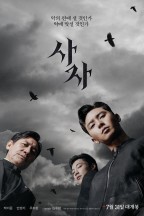 Yong-hu, champion du monde d'art martiaux qui ne croit en aucun Dieu, seulement lui-même, développe soudainement des stigmates sur ses paumes. En visitant une église dans l'espoir de guérir les stigmates, il finit par sauver le père AHN, qui tombe en danger alors qu'il exécute un exorcisme. De cette manière, il apprend le pouvoir des stigmates. Alors que le temps passe, Yong-hu accepte son nouvel appel et commence à sauver les gens possédés par les démons, mais il doit ensuite se préparer à une confrontation finale...
Ce contenu est proposé par
Voir The Divine Fury en streaming sur une de ces plateformes :
À notre connaissance aucune plateforme propose The Divine Fury en streaming pour le moment.
Comment regarder The Divine Fury en streaming
The Divine Fury en streaming complet et en qualité HD sur leurs plateformes respectives légalement. Le film The Divine Fury est sorti officiellement en 2019.
Films les plus populaires du moment