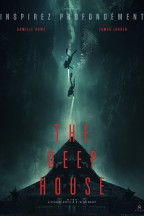 Horreur
The Deep House ( 2021 )
Inspirez profondément.
Tina et Ben sont un couple de jeunes YouTubers spécialisés dans les vidéos d'exploration sous-marine. En plongeant dans un lac français isolé, ils découvrent une maison immergée dans les eaux profondes. Ce qui était au départ une découverte unique se transforme rapidement en cauchemar lorsqu'ils réalisent que la maison était le théâtre d'atroces crimes. Pris au piège, leurs réserves d'oxygène diminuant dangereusement, Tina et Ben se rendent compte que le pire reste à venir: ils ne sont pas seuls dans la maison.
Ce contenu est proposé par
Voir The Deep House en streaming sur une de ces plateformes :
À notre connaissance aucune plateforme propose The Deep House en streaming pour le moment.
Comment regarder The Deep House en streaming
The Deep House en streaming complet et en qualité HD sur leurs plateformes respectives légalement. Le film The Deep House est sorti officiellement en 2021.
Films les plus populaires du moment