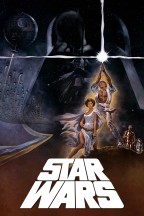 Princess Leia is captured and held hostage by the evil Imperial forces in their effort to take over the galactic Empire. Venturesome Luke Skywalker and dashing captain Han Solo team together with the loveable robot duo R2-D2 and C-3PO to rescue the beautiful princess and restore peace and justice in the Empire.
Ce contenu est proposé par
Voir Star Wars en streaming sur une de ces plateformes :
À notre connaissance aucune plateforme propose Star Wars en streaming pour le moment.
Comment regarder Star Wars en streaming
Star Wars en streaming complet et en qualité HD sur leurs plateformes respectives légalement. Le film Star Wars est sorti officiellement en 1977.
Films les plus populaires du moment