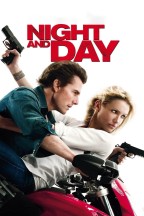 Lorsque June rencontre Roy, elle croit que le destin lui sourit enfin et qu'elle a trouvé l'homme de ses rêves. Pourtant, très vite, elle le suspecte d'être un espion et le cauchemar commence. Elle se retrouve traquée avec lui dans une course poursuite à travers la planète qui ne leur laisse aucun répit. Leur vie ne tient qu'à un fil et le danger est partout. Pour avoir une chance de s'en sortir, June et Roy doivent se faire confiance au point de se confier leurs vies. Mais est-ce bien raisonnable ?
Ce contenu est proposé par
Voir Night and Day en streaming sur une de ces plateformes :
À notre connaissance aucune plateforme propose Night and Day en streaming pour le moment.
Comment regarder Night and Day en streaming
Night and Day en streaming complet et en qualité HD sur leurs plateformes respectives légalement. Le film Night and Day est sorti officiellement en 2010.
Films les plus populaires du moment