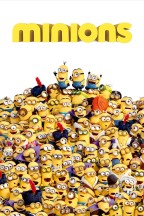 Minions Stuart, Kevin and Bob are recruited by Scarlet Overkill, a super-villain who, alongside her inventor husband Herb, hatches a plot to take over the world.
Ce contenu est proposé par
Voir Minions en streaming sur une de ces plateformes :
À notre connaissance aucune plateforme propose Minions en streaming pour le moment.
Comment regarder Minions en streaming
Minions en streaming complet et en qualité HD sur leurs plateformes respectives légalement. Le film Minions est sorti officiellement en 2015.
Films les plus populaires du moment