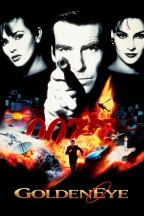 When a powerful satellite system falls into the hands of Alec Trevelyan, AKA Agent 006, a former ally-turned-enemy, only James Bond can save the world from an awesome space weapon that -- in one short pulse -- could destroy the earth! As Bond squares off against his former compatriot, he also battles Trevelyan's stunning ally, Xenia Onatopp, an assassin who uses pleasure as her ultimate weapon.
Ce contenu est proposé par
Voir GoldenEye en streaming sur une de ces plateformes :
À notre connaissance aucune plateforme propose GoldenEye en streaming pour le moment.
Comment regarder GoldenEye en streaming
GoldenEye en streaming complet et en qualité HD sur leurs plateformes respectives légalement. Le film GoldenEye est sorti officiellement en 1995.
Films les plus populaires du moment