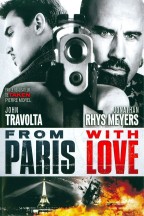 James Reese travaille comme assistant personnel de l'ambassadeur américain à Paris. Fort de cette position d' "insider', il se voit parfois contacté par les Forces Spéciales, à qui il rend quelques menus services. Une vraie frustration pour lui qui se rêve en agent secret, et qui ne demande qu'à sortir de l'ombre pour jouer les gros bras. Alors que se prépare un sommet international, le miracle arrive : on lui confie une vraie mission, et un vrai partenaire, Wax, qu'il récupère le jour même à l'aéroport. Mais pour James, la confrontation aux méthodes musclées de cet agent surentraîné ne sera pas de tout repos...
Ce contenu est proposé par
Voir From Paris with Love en streaming sur une de ces plateformes :
À notre connaissance aucune plateforme propose From Paris with Love en streaming pour le moment.
Comment regarder From Paris with Love en streaming
From Paris with Love en streaming complet et en qualité HD sur leurs plateformes respectives légalement. Le film From Paris with Love est sorti officiellement en 2010.
Films les plus populaires du moment