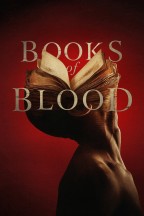 Mary, une brillante psychologue mystico-sceptique fait face à la mort de son fils de 7 ans. Son nouvel amant, Simon, la convainc de pouvoir parler à son fils mort. Ses certitudes sont chamboulées... Au même moment, Jenna, une fille qui souffre de misophonie - une aversion pour les bruits - se met en route pour Los Angeles. Parallèlement, Bennett, un tueur professionnel apprend de la bouche de sa dernière cible, l'existence d'un livre à la valeur inestimable... Afin de le récupérer, Bennett va devoir affronter des menaces surnaturelles.
Ce contenu est proposé par
Voir Books of Blood en streaming sur une de ces plateformes :
À notre connaissance aucune plateforme propose Books of Blood en streaming pour le moment.
Comment regarder Books of Blood en streaming
Books of Blood en streaming complet et en qualité HD sur leurs plateformes respectives légalement. Le film Books of Blood est sorti officiellement en 2020.
Films les plus populaires du moment